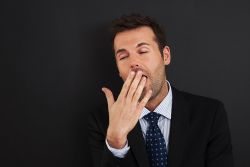 The client is dissatisfied with their website. They feel it looks "empty" and "unprofessional". They claim that they could have created it themselves in Word. They want their money back, no matter how much time was spent wrenching specifications and content from their heads.
As long as I've been in the website business, it still amazes me when a client comes to us in a rush, needing to build a website without the pieces that are needed to create one with any semblance of quality. But, as if we are in the magic business instead of the technology business, they expect their website to be amazing and for us to deliver it within a few days. Let's discount the fact that most of those clients also happen to provide barely enough of a budget to actually create the website.

This isn't about budget. It's about education. So, let's get a few things straight about websites and the role they play in your business or non-profit.
Your Website Is Important
These days, any professional organization should have a website. Your website is the vehicle for prospects, clients, donors, members, and potential partners to learn about you and respond in some way. It's your virtual building, and if it looks like a teenager built it, people will leave with the impression that your business or non-profit either doesn't care about its presentation or doesn't have enough of a budget to present itself properly.
So, your website isn't a side burner issue
. It's not something you give to a busy admin as one more task for her to do. It isn't an afterthought. It's the primary vehicle for worldwide outreach and marketing. It deserves the right level of attention and effort, and should be a marketing channel that your communication and outreach department devotes their effort to building over time.
A Great Website Takes Effort
I can't count the amount of times we are given three sentences to put on a page just to have our client complain that the page looks empty. The comment that makes me squirm is that it "lacks creativity." How creative can a web designer be with three sentences? The only thing worse is when they provide ten pictures to go with the three sentences. How in the world do you arrange ten pictures around three sentences of text and make it look good?
You just can't
.

It's not the job of the web designer to make that look good. You have to take responsibility for the lack of true effort that is being put forth to adequately provide information to place on your website. I once had a client who sent a total of three paragraphs for his entire website. There is nothing that anyone can do to make that into a great website. He just has to care enough to give us more.

The truth is that creating a great website takes a lot of content writing. Content is still king. Each page of your website is like the page of a magazine. Imagine purchasing your favorite magazine only to find six pages each with a sentence and a few pictures. It just wouldn't be the same magazine.
If you don't have the time to create great content, hire a content writer to help. But, whatever you do, do not disregard this important aspect of building your website. You'll regret it and nothing your web designer does will make you happy.
Creating a Great Website Takes Skill
It's popular for people to purchase Photoshop and Dreamweaver and advertise their website services without the proper experience and skill to actually create a quality website. We've lost clients to volunteers who have led them to another service that provides them with less of a service and result in an awful web presence. The business owner or director of the non-profit entrusts the website to someone they trust to do the job. Yet, that person either doesn't understand the process of building an effective web presence or just doesn't have the time to put much effort into it. The responsibility is delegated out, and 9 out of 10 times and years later, the organization is still struggling to get results online.

It takes time, thought, creativity, and a clear direction to create a great web presence. Although websites may seem like a commodity that can be "left to the IT guy", quality ones are not. It's not as simple as opening up a GoD***y account and picking a template. It's about carefully planning and properly organizing your content. It's about finding and taking great pictures. It's about directing your website visitors with the right elements. Until you do, you will never know what a website for your business or nonprofit is capable of. More importantly, you'll never know how much you are losing every day. Contacts, relationships, money... all going down the drain simply because you've chosen to make your website a side item and leave it to the resident geek.

The bottom line is that a vendor should not care more about your website than you do. You should care enough to find someone who is passionate about serving you and creating something of substance, and to be fully engaged in the process. You need systems behind the "prettiness" of your website that will capture information and create points of interaction to engage your website visitors. It doesn't have to be expensive, but it does have to be intentional.
You have to care more about your website than I do because, at the end of the day, it's your organization, reputation, and future success that hangs in the balance
. I'm the next best thing, obsessed with creating great systems for your website to function at its best and deliver results through proven technology and strategies for success. But, I'm worthless if you're too busy to mind your business and provide direction.

Someone's got to say it. I love you enough to do it.
Written by NetMinistry's CEO, Jose Gomez.