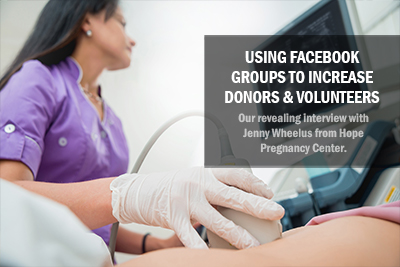 Disclaimer: This podcast does not constitute an endorsement for any specific political, ideological, or religious view. We serve nonprofits across a wide spectrum, and our sole interest is to deliver solutions to problems that nonprofits experience.
In our exclusive Facebook group for nonprofit leaders, Nonprofit Leader Insiders, I met an excited client services director from Hope Pregnancy Center, Jenny Wheelus. In our group, I asked the question:
"What has been the most effective internet-based technology for your nonprofit?"
Jenny replied to the poll by indicating that social media and her website had been effective for her. So, I reached out to Jenny to dig a little further by asking, "(Jenny) would you mind sharing what you have done to measure the impact your website and social media has had on your nonprofit? Also, do you mind sharing your website with everyone so that we can learn more about you and your organization?"
Here's the reply that caught my attention:
"At the end of 2015, we had just over 250 members on our private Facebook page that we use for supporters only. We, at one time, only posted maybe once a month about abortion issues. I now post weekly and sometimes daily when exciting things happen and lives are changed here at Hope Pregnancy Center. We currently have 872 members. Our donations have gone from coming in once or twice per month to almost daily. People who have never been involved with our pregnancy center are calling to volunteer and have become passionate advocates for us in their churches to raise financial support."
She continued:
"They see what is happening here and want to be a part of it. We had our website completely overhauled a couple of months ago with multiple links added to make an appointment or to contact us. We are booking many appointments through the links on our website now. When a new client comes in we ask on the intake form they fill out how they heard about us and the number of clients who found us on the web has greatly increased. We have seen more abortion-minded clients this year than we saw in 2015 and 2016 combined, and almost all of them came to us because of our website. Friends of Hope Pregnancy Center is our supporter Facebook page. http://www.hopecanton.com is our website."
Say What?
This got my attention. At a time when there are countless companies pitching marketing gimmicks and investing in Facebook ads to convince you to spend your money with them, Hope Pregnancy Center managed to find a solution that actually worked to increase donors and volunteers. So, naturally, I invited her to interview with me for an episode of Smart Nonprofit Master Class, which I devoted completely to her.
Takeaway Points
Jenny's strategy was stunningly simple:
To increase website leads, she redesigned Hope Pregnancy Center's website to cater solely to prospective clients (abortion-minded women who are pregnant), adding information and multiple calls to action.

To increase donors and volunteers, she created a private Facebook group, invited supporters to join it, and empowered them to invite others. This increased the visibility and targeting of her supporter messages without making potential clients feel uncomfortable.

To increase donations and volunteer inquiries, she posts daily "wins" to her private Facebook group, reporting all the great things that are happening at Hope Pregnancy Center.
That's it. As a result of her work, the center enjoys daily donations and incoming volunteer requests. Ummm… did I say incoming volunteer requests? Yup, I think I did.
Final Thoughts
To really get the most out of the information, listen to Episode 10 of the Smart Nonprofit Master Class podcast. I'm sure you can really catch the nuances of Jenny's strategy as well as become infected by her passion for what she does. You can tell that it has reignited her vision for what could happen for her organization. With optimizations to the website for better search engine ranking and the addition of pay-per-click ads, Hope Pregnancy Center really has a winning strategy for acquiring new clients and engaging supporters. We congratulate Jenny and the rest of the Hope Pregnancy Center family in their success in finding a strategy that can work for centers around the country, and for serving their community with passion and compassion.
Bonus Action Point: Facebook groups can help you to create a community around any common interest. Think about how you can use a private group to create community out of your donor base, volunteer group, and/or the people you serve. Will one group work, or multiple groups?
Hope Pregnancy Center is a pro-life pregnancy center. They do free pregnancy tests and options counseling. They also offer prenatal and parenting classes while offering material assistance such as diapers, wipes, baby items and maternity clothes, earned by coming to classes. They are completely dependent on supporters who give of their time and money to keep them running.