In the process of designing a website, part of our job is to educate clients on the difference between a website's template design and its homepage content area. It's understandable why - the two are closely intertwined when web design is done right. But, there is a distinction between these two parts of your website that is important to the scope of a project and how much money you will end up investing before your project is done.
Templates Are Letterheads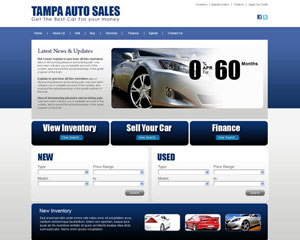 Example A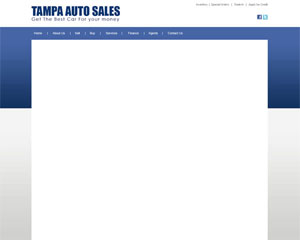 Example B
The most basic illustration I can use is one of a letterhead. It's generally understood that a letterhead serves only to wrap around a letter's content, making it look visually appealing even if the entire contents of the letter are only text. A letterhead provides a place for your logo and other branding elements as well as basic contact information. This is essentially what a good website template does. It sets the stage for your content and provides you with an attractive "shell".
Another way to think about the website template is as an overall theme. The template provides the look and feel of your website. It sets the tone and mood, giving context to the information presented within it. It's typically the part of the website that stays the same from page to page, providing continuity and predictability for your website visitors.
In Example A, you will see a website complete with its homepage content. In Example B, the homepage information is removed and only the template portion of the web page remains. As you can see, the template typically provides the outer wrapping and leaves space for your presentation in the middle. This allows for subsequent pages to reuse the template and for the content to change from page to page.
Homepages Content Goes In the Middle
The homepage content is what goes in the middle of the template used on the homepage of your website. But, this content will be different from other pages. Usually, homepage content is more graphical, containing summary information and feeds from your other web pages. For example, if you run a blog on your website, your homepage content might contain the headlines and summaries of your latest blog posts. If you publish a calendar, it might show the next three upcoming events from that calendar. Ideally, homepage content acts like a magazine cover, containing summary information about what's inside along with pictures that catch the eye and engage your website visitor.
Sometimes, clients confuse homepages with an entirely different concept called a Splash Page. Splash pages are very concise graphical pages that serve as an intro to your website. Typically, they do not contain any content and present the website visitor with the option to "Enter the Website". We don't recommend the use of Splash pages for most websites because they usually negatively affect your search engine rankings and create an obstacle for website visitors in getting to your content quickly. Generally, website visitors are interested in information, not mood setting graphics and musical introductions.
In Example C, we have placed a side-by-side comparison of a template, template with homepage, and a template with secondary content (left to right). This should provide a good understanding of the difference between the different parts of a website and help you determine what you should pay for when you design your next website.

Do you have something to add? Do you still have questions? Leave your comments below.